Novelist Personal Info.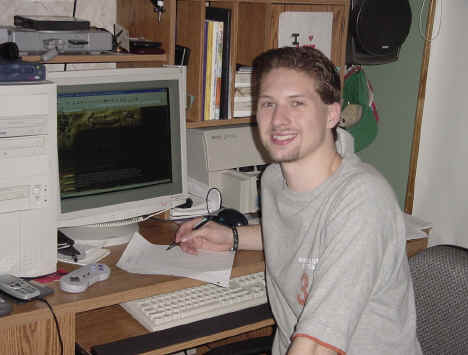 If you've clicked to view this page, then you must be interested in learning more about me, the one who is running this whole Chrono Trigger Novel Project. To get started, here are just a few basic facts:
Age: 32
Height: 5'11"
Weight: 190 lbs.
Updated: 10/24/15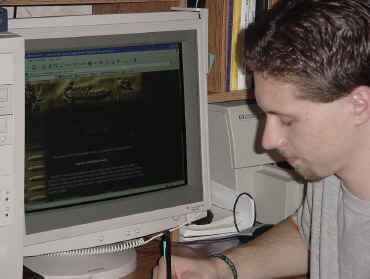 Believe it or not, my name is not "CT Novelist." It's actually Wayne. I've lived in Southern Indiana all of my life, where I grew up and went to a small, rural school system. I've truly been blessed by God with a wonderful family, great friends, an amazing wife named Kaly, and two beautiful daughters. We've been married since May 22, 2004.
I've always had an extremely ambitious nature about me, as well as a strong will to get things done. Anytime I start something, I want to finish it--and I want to finish it well. This project, of course, is a prime example. It just so happens that it's extremely difficult to finish.

My ambitious side can be seen through the many things that I've tried to do while growing up. In grade school, my cousin and I worked on comics and scripts for "creatures" we called "Handghosts," which basically consisted of those talking "things" that your hands can suddenly become. We hoped to turn the concept into a cartoon. In the fourth grade, a good, old friend of mine named Jeremy and I started working on game maps and characters for new Mega Man games. We must have drawn up maps and characters for at least 25-30 games!
All of those "projects" have uniquely shaped my nature--that nature to want to produce something enjoyable, clean, fun, entertaining, and bigger than myself. For whatever reason, I have a real desire to be doing something involved. It seems that I've always fed off of any sort of personal project or task. My work has been largely influenced by this, as well, as I will often extend a day starting at 8am well past 6pm before finally calling it "quits," only to find myself still quite attentive until hitting my pillow at night. It's as if my mind requires itself to stay busy on an unending basis.
Throughout school, English was always one of my strongest subjects, especially when it came to creative writing. Growing up, I was an avid participant in Pizza Hut's BookIt! program, and I continued my interest in writing through the Young Authors program that extended through middle school. During those years, I wrote a trilogy of detective books named, appropriately enough, The Haunted House 1, 2, and 3. Later on (I believe it was 7th and 8th grade), I wrote two books in the Colonization series about the colonization of the planet Venus. A short story called "Red Planet Rescue" followed later on in the 10th grade (apparently I liked science fiction stuff a lot back then, and I still do). Since the Chrono Trigger novel originally began for me back in the 8th grade, it has shaped and been shaped by the development of my writing abilities throughout high school and college. Looking back, the evolution of the novel from its start to where it is now is really quite a fascinating one. All along, I have really used the Chrono Trigger novel and its many iterations as a vessel for shaping and refining my writing style into one that I believe people would now enjoy.
While in high school, I participated in marching/pep/concert band (it was all one class); BPA (Business Professionals of America), where I earned 2nd place at the National Leadership Conference in Anaheim, California in Database Applications (using Microsoft Access 2000); Fellowship of Christian Students (also known as Fellowship of Christian Athletes, or FCA); and the Boy Scouts of America, where I earned the highest ranking of Eagle Scout. I was also involved in track for one season in long jump (I believe 18' 2" was my best recorded jump), 100 meter dash, 400 meter relay, and, on occasion, high hurdles.
I graduated from high school in the Class of 2001 with about 95 other students and went on to the University of Louisville, where I am also a graduate. A graduate from the Class of 2005, I hold a Bachelor of Business Science degree in Computer Information Systems with a Minor in Marketing. That degree strongly reflects my career interests in business and information technology. Writing is only a hobby of mine, and I never felt that majoring or minoring in English would greatly improve my skills in that area. It would expose me to more literature, yes, but, after examining the curriculum, it would not likely help my creative or overall writing skills, at least not by much. I make up for anything else in simple experience and the council of others around me, and, of course, an enduring passion.
For years I held a post at my parents' company, C & G Technologies, where I worked a high-level management position as the V.P. of Global Business Development. It was an interesting title with an interesting encompassment, as I was actually responsible for a great many things, including management of the parts customer service team, part repairs, inventory, shipping, and information technology (fits my degree almost perfectly). I also got involved with marketing through tradeshows and materials for these shows. The company itself dealt with medical equipment (CT scanners) aftermarket, a truly unique and interesting career. From 2010-2013 I was involved in the completely different industry of licensed products and direct-to-consumer retail, which greatly advanced my professional experiences and relationships. Our family sold the C&G business in July 2013, and since then I have operated my own business called W7 Global (www.w7global.com). This company takes me back to the medical industry and mostly focuses on parts and x-ray tubes for all types of medical equipment to customers around the world. This has granted me the ability to capitalize on the finer aspects of a long-standing career while also achieving great flexibility. The Novel Project has always fit in between the rest of my life, with recent professional advances (as of Oct. 2015) once again boosting my drive to finally finish this. (You can get a more detailed summary of my professional history via my personal LinkedIn page.)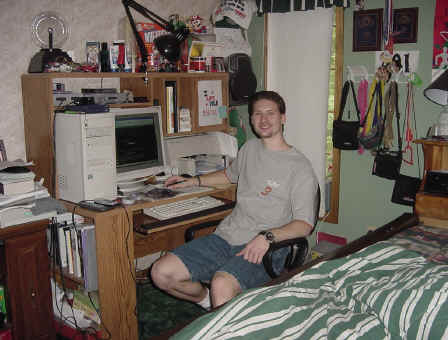 Now you've had a look into my life and history. For more information on the actual history of the novel and the project around it, I invite you to have a look through the Novel Center, where you can find out how the novel project has developed from its birth up through now. The website's content has not been updated much in years, so please do bear this in mind.
That's about all I can think of to write about myself, at least for now. I hope that you'll enjoy browsing this site and that you will find this endeavor worthy of your own support. Thanks for reading, and may the love of Jesus Christ truly touch your heart. May the many blessings of God in this truly fill your heart, mind, and soul.